The Me I Want To Sing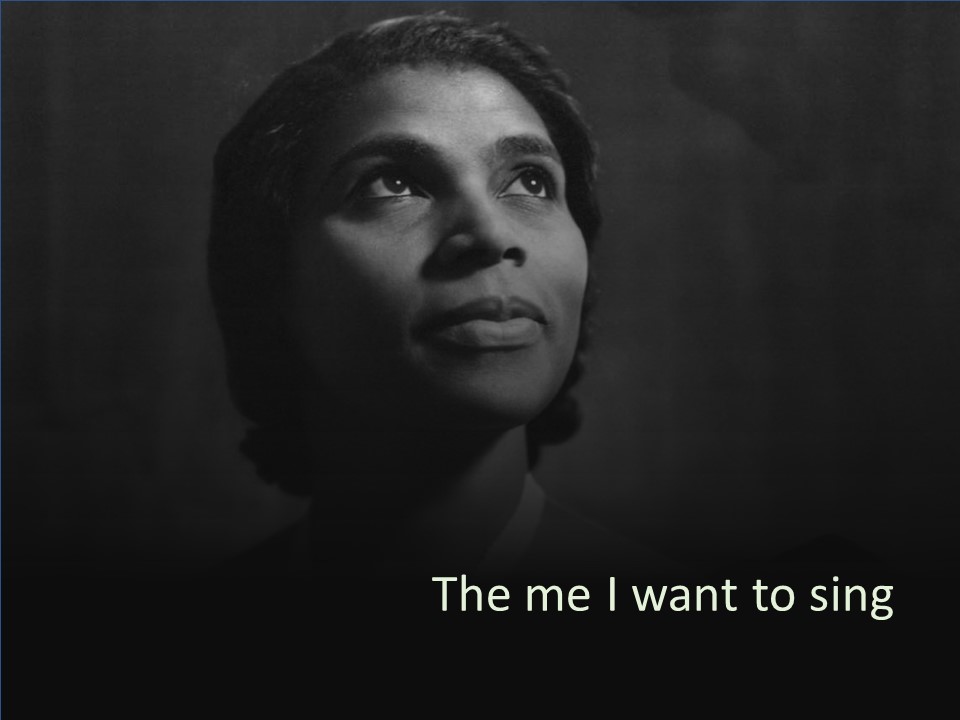 COMMISSIONED BY: Kennedy Honors & Washington National Opera
PREMIERED: The Kennedy Center, Millennium Stage
This 55 minute multi-media work, is also a performance piece for SOPRANO, ALTO and ACCOMPANIST that celebrates the lives, friendship, and artistic legacy of two women of color, Marian Anderson and Leontyne Price.
Extract:
PART ONE
Make a Joyful Noise..
SOPRANO: …it is no mystery –
ACCOMPANIST: Excursions, Op.20, No.1 (Barber) 2:53 (continuous through following)
SOPRANO: -out of civil war, and Emancipation - the sight of citizens of color, moving in culture - such a sight, inflamed a civil ire left smoldering beneath Reconstruction's scaffolds.. No policy of politic could salve sight of pure black, in daylight.. ..establishing – infrastructure of society; success.. pleasure. ..but there emerged things to be done to check this - to impede this ..to harass ..to remind .. -that free, had little to do with freedoms.. 
*(end accompaniment)
ALTO: ..in this new condition of existing, strength could always be found- in praise and conviction in the congregation of black churches. Spirituals nurtured community, and sustained an atmosphere with inspiration - imbued by free children..
ACCOMPANIST: "Kaintuck", for piano (W. Grant Still) ("Opening" fit text- lead into-*) 1:50 
SOPRANO: In 1915, at the Union Baptist Church in Philadelphia, the young Marian Anderson's voice rang out in dimensions of a gift of song so pronounced, that it was no surprise every coin which could be rendered, was taken into collection - to make sure the girl would have a teacher, and a start, fit to guide her in music, beyond that body's knowledge. Their act of support was a bond, and the spirituals, sung at the threshold of her journey, grounded them all in the shared experience of knowing that she would never be alone.
*ALTO/ACCOMPANIST: My soul's been anchored in the Lord.. (Florence Price)  3:30
SOPRANO: Marian rose on the embrace of her congregation, but outside of church, in the face of segregation- moving towards making a choice to be a classical singer, defined engaging a path of a brand new journey in education.
ALTO:  "I was very accomplished, ahead of applying for further education. I walked up the front stairs, of the music school in Philadelphia, in through the door, and stood in my turn in a line full of people. There was a young, blond girl behind the window ..she looked over my head, and took all those waiting behind me ..until I was the only one left.. 'What do you want?' she said ..I told her an application blank. She raised her upper lip ..as if she smelled something bad, and said to me – 'We don't take colored'. –I wonder I didn't throw up, right there. But I didn't. And thinking on it,.. –'can't I sing, can't I be a singer, because –what? I'm-..?"
ALTO/SOPRANO: And her mother, as mine to me.. reassured her. "I can do anything I want." 
ALTO: I felt I would then.
ALTO/ACCOMPANIST: Evening Song (Charles Griffiths)  2:34