May – July 2021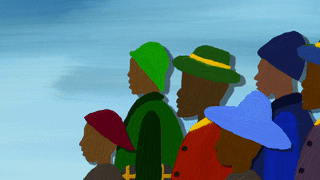 *..appreciating that I needed netting to hoist this endeavor.. first task was in seeking a director; I reached out to Scot Reese, who had first directed my work in 2014, Smoking Out The Beehive, which was a commission by The National Portrait Gallery. Scot had read the full pay of By Me back in Jan of 2020, and savored the depth and originality of the work. With it now as 3 Frames he appreciated its unique application, moment, and design; he suggested a young director, Jasmine Mitchell, who was, in fact, his protégé.
*Jasmine embraced the work; as well as the project, and my ask if she would be the director for the 2nd workshop.
*Not having a 501c3 was a more difficult dilemma. -however..
*In the summer of 2019, The Lab brought together 200 creative artists/'change engines' in a week of seminar and performance content at GU, called The Gathering.  It was glorious, and affirming, and huge wonderful networking, out of which I'd connected with Gail Prensky. In this time of looking for a functional fiscal umbrella, Gail stepped up; her company Meteopa had another entity aligned in the Jüdische Kulturbund Project. This entity could offer itself as 'fiscal sponsor' fitting in place with Meteopa into a fiscal umbrella that would allow for receipt of The Phillips funds as well as creation of a WeDid.it funding solicitation platform.
*This was agreed to in mid-June 2021.
*Gail sorted a web pg, and hosted it on the JK Projects site; she designed a WeDid.it donations pg as well..
*..then with permission of The Phillips Collection and lead curator Elsa Smithgall.. I was able to commission Adam Easterling, a graphic animation artist, to create animations "inspired by" 5 of the Jacob Lawrence Migration Series panels, which would resonate the intergenerational dialogue between ANNIE and KENNETH SR..
*The workshop presenting Frames 1 & 3!
Adam's animation moments were stunningly realized, and hugely exciting for the production. This was a true coup of coalition/collaboration/support. The 3 performance presentations were very well attended.
Jasmine's vision allowed for a deep dig into the relationships of the characters and the dimensions of their 'undiscussed'.. As director of this workshop, Jasmine led the 'afterwards reflections', with invitation to the audience to take the moment to consider "how you're feeling just now", and in subsequent moment, asked if anyone would like to share that feeling. We found that in such position of 'the ask', to share feelings, set the floor of engagement in an internal memory point that touched into a specific moments within the play they had just seen. As each feeling linked directly to an experience, the sharing became poignant, personal, and a fulsome landscape of 'family' that allowed for all 'in the room' to knit into empathy.. leading into even deeper expressions of sharing, and corners of the 'undiscussed' in family..
*In the debrief with Makeba and The Phillips we were told that they wished to partner with the journey of this work in the full course of its ambition.