3 Frames / By Me Project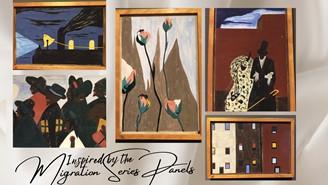 ABOUT THE PLAY:
In London, gay, black playwright, KEN JOHNSON, finds himself provoked to question his being in "this elsewhere", by his friend GREER, another playwright, who is a confirmed American ex-pat.
 In an unexpected exchange, GREER finds such gaps in KEN's memory of his early life, in Harlem, that she challenges him to head back, and accept the journey to discover the reason for his true need in "elsewhere."
 In an unsettling return to America, KEN is confronted by his father's encroaching dementia, as well as his step-mother's perspectives of color, which have always manifested as rigid and judgmental attitudes of class and coding.
 Uncertain, 'untethered' – KEN grapples with facets of memory that become access for excavating defining choices of expectation by his parents.. of his color.. and a weight of legacy that remains anchor as the 'undiscussed of bougie'.
 It is in the support of his white partner, ALLAN, and the generational guidance by his theatre-godmother, JERRI, that KEN comes to understand how the disconnects form inconsistencies, and  by way of the  journey of 'otherness' in his life, allow for defining choices in his learning how to "be".
THOUGHTS ABOUT THE PROJECT:
From Bob Jaffe, Executive Producer:
"I have worked with Tom Minter in many forms (producing, directing, acting) over the last 10 years.  His plays consistently reach deeply into an exploration of history and culture through personal reflection, suppressed memory, and family legacy - all couched in the beautiful lyricism of his language.  The impact on an audience is visceral and palpable." From the Executive Director, Gail Prensky, Jüdische Kulturbund Project:
"The Jüdische Kulturbund Project's mission is to connect people through commonality and encourage freedom of expression and culture. We have embraced 3 Frames/By Me, because I am deeply moved by Tom Minter's play, and my hope is that 3 Frames/By Me will impact the many people who see it, as it has impacted me, by wanting to look deeper into themselves and discuss issues that they were too uncomfortable to share."
From Jasmine Mitchell, Director
"Ken's journey of self exploration and healing from generational traumas is a similar journey to one that I'm on myself, and relatable to many Black folks, as discussion of mental health becomes more prevalent in the community. Directing 3 Frames/By Me, and working closely with Tom to bring this story to life, has encouraged that vulnerability and has been a refreshing process for me."
WHY THIS PROJECT IS IMPORTANT:
As a very personal exploration of race dynamics and perspectives of memory, this work touches on facets of deeper "undiscussed" that exist as ways of coping for any family, and every person. The various character journeys mesh as a tapestry of the consequences when stories of family history are lost, or removed from conversation - stories that illuminate the struggle of an earlier generation, whose challenges and choices remain driving 'isisms' in a family's culture.
By the end of the play, although we have journeyed in other's shoes, each of the characters in this work compel us, persuade us, envelope our norms, and, at each moment of challenge, deconstruct expectations, not just for them, but for ourselves.
HOW TO SUPPORT THE PROJECT:
3 FRAMES / BY ME is now in it's final stage of development before a full production is envisioned.
Following two successful workshops with the Quicksilver Theater Company and the Phillips Collection, we need funding for a final online developmental workshop in November.
We have a superbly talented cast and production team in place: https://www.judischekulturbund.com/3-frames-by-me-team/
Donations can be made online by going to: https://judischekulturbund.wedid.it/campaigns/9476-3-frames-by-me